BRUTAL ASSAULT FESTIVAL 2014
Vol. 19
August 06-09, 2014 - Old Army Fortress Josefov, Czech Republic
http://www.brutalassault.cz
The Old Army Fortress in Josefov, Czech Republic, will open its hell gates and welcome the 19th edition of the Brutal Assault Festival on the
6th, 7th, 8th and 9th of August 2014
and you should not by any chance miss it!
LINE-UP 2014:

AMON AMARTH
AOSOTH
ARCHITECTS
ARSONISTS GET ALL THE GIRLS
AUGUST BURNS RED
BENEDICTION
BLINDEAD
BRING ME THE HORIZON
BROKEN HOPE
BRUTALITY WILL PREVAIL
CHILDREN OF BODOM
CHTHONIC
COMBICHRIST
CONVERGE
CHURCH OF MISERY
CROWBAR
CRUACHAN
DAGOBA
DEVIN TOWNSEND PROJECT
DEW-SCENTED
DOWN
ENTHRONED
EXIVIOUS
FEASTEM
FLESHGOD APOCALYPSE
FLOTSAM & JETSAM
GEHENNA
GOD IS AN ASTRONAUT
GORGUTS
GRAND EXIT
GUTTED
H2O
HACKTIVIST
HAIL OF BULLETS
HAMMERCULT
HAVOK
HIGH ON FIRE
IGNITE
IMPALED NAZARENE
IN MOURNING
INQUISITION
IWRESTLEDABEARONCE
JESU
KATATONIA
KHOLD
KRABATHOR
KRAKOW
MANEGARM
MANES
MARTYRDOD
MGLA
MISERY INDEX
MODERN DAY BABYLON
MORS PRINCIPIUM EST
MY DYING BRIDE
NERVECELL
NIGHTFALL
OBITUARY
OKKULTOKRATI
ONSLAUGHT
PENTAGRAM (CHILE)
RED FANG
REPULSION
RINGWORM
SATYRICON
SEVERE TORTURE
SHINING
SICK OF IT ALL
SIX FEET UNDER
SKELETONWITCH
SLAYER
SODOM
SOILWORK
STRIFE
SUFFOCATION
TERRORIZER
TEXAS IN JULY
THE AGONIST
THE CHURCH OF PUNGENT STENCH
THE OCEAN
UNLEASHED
VENOM
WORSHIP
DODECAHEDRON
(NEW)
CARNIVAL IN COAL
(NEW)
SIBERIAN MEAT GRINDER
(NEW)
INFERNAL TENEBRA
(NEW)


SPASM
INSANIA
LIVE EVIL
ISACAARUM
FLESHLESS
PANYCHIDA
EPICARDIECTOMY
HEAVING EARTH
KEEP ON ROTTING
PRVNÍ HOŘE
RATS GET FAT
HEIDEN
RADIOLOKATOR
SIX DEGREES OF SEPARATION
and

SUBURBAN TERRORIST.






[size=200]

AREA:
The festival will take place inside the
Old Army Fortress in Josefov
(approx. 130 km from Prague). Unique atmosphere and history of the Fortress is an integral part of festivals image and provides to our festival-goers unusual experience.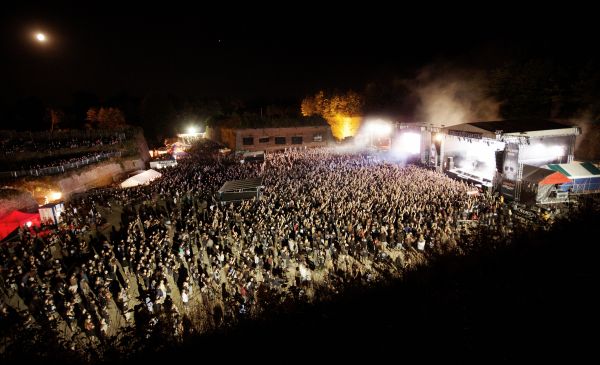 The both stages are on the main square and the festival accessories are placed in the surrounding space. The festival-goers will discover more than 30 refreshment kiosks with various kinds of food for carnivores, vegetarians and vegans, 4 big beer tents offering 5 brands of draught beer (1,15 EUR per 0,5 litre!) and also several kiosks with wide offer of various kinds of alcoholic drinks.
Visit our chill out zone on the place called
Greenfield
! This place is inside the Fotress, just a small walk from the main square with both stages. Greenfield is a place for your pleasure and relaxation when you want to escape from the sound terror. It is a place for recharging your batteries. Among others you can find there monster
Metal Market

"
with more than 50 stalls and
Horror Cinema Tent
.
Visit also our
Natural Stand
, a place for those who want to see the festival rush from above directly opposite both stages. We call it "natural stand" since it reminds a hillside where you can stay standing or sitting.
The camping site is approx. 300 m from the festival ground on a grass field. The camping site also includes
VIP Camp
which offers camping in the fenced area, toilets, washbasin and depository for use of the VIP camp inhabitants exclusively, a free 3-day pass for the natural stand and one time pass to the showers situated in the camping site. VIP camp is guarded 24 hours a day.
There are no parking capacities at the camping site. Parking is possible in the near roads and streets of Josefov. Please respect the local traffic signs.
As the festival celebrates its 19th edition and the line-up is becoming stronger and stronger, it is highly recommended to buy your tickets in advance. The capacity of the Fortress is approx. 15000 persons.
TICKETS

:
For more information click on the "Tickets" section @ brutalassault.cz
PLEASE NOTE

:
at the box office the local currency will be preferred however EURO will be accepted too. Currency will be based on the updated exchange rate of the day.
Visit the official websites
http://www.brutalassault.cz
for more information about tickets, bands, camping (incl. VIP Camp), accommodation and other important things.
Visit us also on:
http://www.facebook.com/brutalassaultfest
http://www.youtube.com/brutalassaultfest